What is S P L A S H?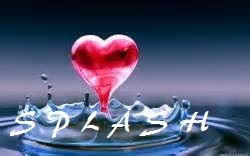 SPLASH stands for Show People Love And Sharing Him. The idea is to have a concentrated week of mission events and then to encourage everyone to continue to SPLASH people year round. We travel to go on mission trips which is a part of fulfilling the great commission but there is much mission work to be done right here in Millbrook. The first year we called it Mission Trip to Millbrook. The past 3 years we have called it SPLASH. Our mission team partners from Maryland have helped us all four years. This year a team from Mississippi will join us for the first time. SPLASH is a great opportunity to fulfill the great commission right here at home!
The SLASH events are scheduled for July 7th through July 13th. Please check out all the events, There will be several service opportunities each morning, afternoon, and evening. We need help providing items for mission opportunities we will have during the week. If you are interested in helping during SPLASH, please be sure to sign up. The sign up sheets are located on the bulletin board near the church offices.
Welcome to
Millbrook Baptist Church
"Come unto me, all ye that labor and are heavy laden, and I will give you rest. Take my yoke upon you, and learn of me; for I am meek and lowly in heart; and ye shall find rest unto your souls. For my yoke is easy, and my burden is light." Matthew 11:28-30

"My prayer for Millbrook Baptist is that we can be an extension of the promise Jesus makes to those who will come unto Him. I pray that Millbrook Baptist is a place people are confronted with the Lord and a place where rest from this world can be found as we lean on Christ. As well as a place where burdens can be left behind as we place them at the foot of the Cross." Mike Ingram, Pastor

Our purpose is to help our community know our Lord Jesus Christ and help Christians grow in their relationships with the Lord. This is accomplished in a number of ways. Sunday School offers an opportunity to study the Word of God and build relationships. Discipleship Training allows us to explore our walk with the Lord by learning about ourselves and our personal walk with the Lord. Wednesday nights provide an opportunity to learn about missions, to study God's Word, and a time for prayer. RA's and GA's are all part of our Children's ministry and we have a growing youth ministry. The most important thing we do each week is gather together as a Body of Christ and worship our Lord. Our worship results in ministry possibilities and service opportunities.